About Us
Golden Grill is a Fast Food takeaway in Garforth. Why don't you try our Margherita Pizza or Pitta Bread?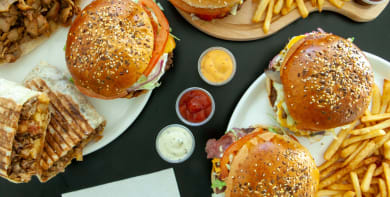 Reviews
200 reviews
Leanne
"Fast delivery, friendly delivery driver and a nice naughty treat for a Tuesday! Food was hot, well packaged and tasty,"
24/11/2020
Robert
"Good as always!"
04/11/2020
Gary
"Good good fast... Can't beat it."
23/10/2020
Mohammad
"Nice and fresh donor meat. They really did arrive abit early i think, i can't remember how early"
23/10/2020
Menu
Half & Half Pizza 11" Deep
£7.90
Half & Half Pizza 11" Family
£10.40
Half & Half Pizza 11" Thin
£6.90
Garlic Sausage Pizza 09" Thin
Garlic sausage & onions
£5.10
Garlic Sausage Pizza 11" Deep
Garlic sausage & onions
£7.40
Garlic Sausage Pizza 11" Thin
Garlic sausage & onions
£6.40
Garlic Sausage Pizza 14" Family
Garlic sausage & onions
£9.80
Garlic Margherita Pizza 09" Thin
£4.60
Garlic Margherita Pizza 11" Deep
£6.90
Garlic Margherita Pizza 11" Thin
£5.90
Garlic Margherita Pizza 14" Family
£9.30
Hot & Spicy Pizza 09" Thin
Pepperoni, peppers, onions & chilli powder
£5.10
Hot & Spicy Pizza 11" Deep
Pepperoni, peppers, onions & chilli powder
£7.40
Hot & Spicy Pizza 11" Thin
Pepperoni, peppers, onions & chilli powder
£6.40
Hot & Spicy Pizza 14" Family
Pepperoni, peppers, onions & chilli powder
£9.80
Ham Pizza 09" Thin
Turkey ham
£4.80
Ham Pizza 11" Deep
Turkey ham
£7.10
Ham Pizza 11" Thin
Turkey ham
£6.10
Ham Pizza 14" Family
Turkey ham
£9.50
Ham & Pineapple Pizza 09" Thin
Turkey ham & pineapple
£5.10
Ham & Pineapple Pizza 11" Deep
Turkey ham & pineapple
£7.40
Ham & Pineapple Pizza 11" Thin
Turkey ham & pineapple
£6.40
Ham & Pineapple Pizza 14" Family
Turkey ham & pineapple
£9.80
Ham & Mushroom Pizza 09" Thin
Turkey ham & mushrooms
£5.10
Ham & Mushroom Pizza 11" Deep
Turkey ham & mushrooms
£7.40
Ham & Mushroom Pizza 11" Thin
Turkey ham & mushrooms
£6.40
Ham & Mushroom Pizza 14" Family
Turkey ham & mushrooms
£9.80
Margherita Pizza 09" Thin
£4.40
Margherita Pizza 11" Deep
£6.40
Margherita Pizza 11" Thin
£5.40
Margherita Pizza 14" Family
£9.00
Hot Shot Pizza 09" Thin
Pepperoni, tandoori chicken, onions & jalapeno chillies
£5.10
Hot Shot Pizza 11" Deep
Pepperoni, tandoori chicken, onions & jalapeno chillies
£7.40
Hot Shot Pizza 11" Thin
Pepperoni, tandoori chicken, onions & jalapeno chillies
£6.40
Hot Shot Pizza 14" Family
Pepperoni, tandoori chicken, onions & jalapeno chillies
£9.80
Meat Feast Pizza 09" Thin
Pepperoni, turkey ham, salami & chicken
£5.10
Meat Feast Pizza 11" Deep
Pepperoni, turkey ham, salami & chicken
£7.40
Meat Feast Pizza 11" Thin
Pepperoni, turkey ham, salami & chicken
£6.40
Meat Feast Pizza 14" Family
Pepperoni, turkey ham, salami & chicken
£9.80
Pepperoni Pizza 09" Thin
Pepperoni & green peppers
£5.10
Pepperoni Pizza 11" Deep
Pepperoni & green peppers
£7.40
Pepperoni Pizza 11" Thin
Pepperoni & green peppers
£6.40
Pepperoni Pizza 14" Family
Pepperoni & green peppers
£9.80
Quattro Formaggi Pizza 09" Thin
Combination of 4 cheese
£4.80
Quattro Formaggi Pizza 11" Deep
Combination of 4 cheese
£7.10
Quattro Formaggi Pizza 11" Thin
Combination of 4 cheese
£6.10
Quattro Formaggi Pizza 14" Family
Combination of 4 cheese
£9.50
Pollo Pizza 09" Thin
Chicken, tomatoes & sweetcorn
£5.10
Pollo Pizza 11" Deep
Chicken, tomatoes & sweetcorn
£7.40
Pollo Pizza 11" Thin
Chicken, tomatoes & sweetcorn
£6.40
Pollo Pizza 14" Family
Chicken, tomatoes & sweetcorn
£9.80
Pizza Of Your Choice 09" Thin
Any 4 toppings of your choice
£5.30
Pizza Of Your Choice 11" Deep
Any 4 toppings of your choice
£7.60
Pizza Of Your Choice 11" Family
Any 4 toppings of your choice
£10.00
Pizza Of Your Choice 11" Thin
Any 4 toppings of your choice
£6.60
Death by Pepperoni Pizza 11" Deep
Cheese, pepperoni, cheese, pepperoni & cheese
£8.20
Death by Pepperoni Pizza 11" Thin
Cheese, pepperoni, cheese, pepperoni & cheese
£7.20
Funghi Pizza 09" Thin
Mushrooms
£4.80
Funghi Pizza 11" Deep
Mushrooms
£7.10
Funghi Pizza 11" Thin
Mushrooms
£6.10
Funghi Pizza 14" Family
Mushrooms
£9.50
Donner Pizza 09" Thin
Donner meat
£5.10
Donner Pizza 11" Deep
Donner meat
£7.40
Donner Pizza 11" Thin
Donner meat
£6.40
Donner Pizza 14" Family
Donner meat
£9.80
Chilli Pizza 09" Thin
Chilli con carne, sauce & onions
£5.10
Chilli Pizza 11" Deep
Chilli con carne, sauce & onions
£7.40
Chilli Pizza 11" Thin
Chilli con carne, sauce & onions
£6.40
Chilli Pizza 14" Family
Chilli con carne, sauce & onions
£9.80
Country Feast Pizza 09" Thin
Peppers, mushrooms, onions, fresh tomatoes & sweetcorn
£4.80
Country Feast Pizza 11" Deep
Peppers, mushrooms, onions, fresh tomatoes & sweetcorn
£7.10
Country Feast Pizza 11" Thin
Peppers, mushrooms, onions, fresh tomatoes & sweetcorn
£6.10
Country Feast Pizza 14" Family
Peppers, mushrooms, onions, fresh tomatoes & sweetcorn
£9.50
Chef's Special Pizza 09" Thin
A little bit of everything
£5.30
Chef's Special Pizza 11" Deep
A little bit of everything
£7.60
Chef's Special Pizza 11" Thin
A little bit of everything
£6.60
Chef's Special Pizza 14" Family
A little bit of everything
£10.00
Bolognese Pizza 09" Thin
Bolognese sauce & onions
£5.10
Bolognese Pizza 11" Deep
Bolognese sauce & onions
£7.40
Bolognese Pizza 11" Thin
Bolognese sauce & onions
£6.40
Bolognese Pizza 14" Family
Bolognese sauce & onions
£9.80
BBQ Chicken Pizza 09" Thin
Peppers, BBQ chicken & onions
£5.30
BBQ Chicken Pizza 11" Deep
Peppers, BBQ chicken & onions
£7.80
BBQ Chicken Pizza 11" Thin
Peppers, BBQ chicken & onions
£6.80
BBQ Chicken Pizza 14" Family
Peppers, BBQ chicken & onions
£10.20
Chicken Feast Pizza 09" Thin
Tandoori chicken & spicy chicken
£5.10
Chicken Feast Pizza 11" Deep
Tandoori chicken & spicy chicken
£7.40
Chicken Feast Pizza 11" Thin
Tandoori chicken & spicy chicken
£6.40
Chicken Feast Pizza 14" Family
Tandoori chicken & spicy chicken
£9.80
Chicken & Pineapple Pizza 09" Thin
£5.10
Chicken & Pineapple Pizza 11" Deep
£7.40
Chicken & Pineapple Pizza 11" Thin
£6.40
Chicken & Pineapple Pizza 14" Family
£9.80
Chicken & Mushroom Pizza 09" Thin
£5.10
Chicken & Mushroom Pizza 11" Deep
£7.40
Chicken & Mushroom Pizza 11" Thin
£6.40
Chicken & Mushroom Pizza 14" Family
£9.80
Tandoori Chicken Pizza 09" Thin
Tandoori chicken, onions & peppers
£5.10
Tandoori Chicken Pizza 11" Deep
Tandoori chicken, onions & peppers
£7.40
Tandoori Chicken Pizza 11" Thin
Tandoori chicken, onions & peppers
£6.40
Tandoori Chicken Pizza 14" Family
Tandoori chicken, onions & peppers
£9.80
Spicy Pollo Pizza 09" Thin
Spicy chicken, peppers, onions & jalapeno chillies
£5.10
Spicy Pollo Pizza 11" Deep
Spicy chicken, peppers, onions & jalapeno chillies
£7.40
Spicy Pollo Pizza 11" Thin
Spicy chicken, peppers, onions & jalapeno chillies
£6.40
Spicy Pollo Pizza 14" Family
Spicy chicken, peppers, onions & jalapeno chillies
£9.80
Toscana Pizza 09" Thin
Turkey ham, peppers, onions & mushrooms
£5.10
Toscana Pizza 11" Deep
Turkey ham, peppers, onions & mushrooms
£7.40
Toscana Pizza 11" Thin
Turkey ham, peppers, onions & mushrooms
£6.40
Toscana Pizza 14" Family
Turkey ham, peppers, onions & mushrooms
£9.80
Tuna Delight Pizza 09" Thin
Tuna, sweetcorn & onions
£5.10
Tuna Delight Pizza 11" Deep
Tuna, sweetcorn & onions
£7.40
Tuna Delight Pizza 11" Thin
Tuna, sweetcorn & onions
£6.40
Tuna Delight Pizza 14" Family
Tuna, sweetcorn & onions
£9.80
Classic Milkshake Bubblegum
£3.50
Classic Milkshake Chocolate Delight
£3.50
Classic Milkshake Heavenly Vanilla
£3.50
Classic Milkshake Magnificent Mango
£3.50
Classic Milkshake Strawberry Sensation
£3.50
Chocolate Bar Milkshake Aero Mint
£3.50
Chocolate Bar Milkshake Bounty
£3.50
Chocolate Bar Milkshake Cadbury's Flake
£3.50
Chocolate Bar Milkshake Ferrero Rocher
£3.50
Chocolate Bar Milkshake Galaxy
£3.50
Chocolate Bar Milkshake Milky Bar
£3.50
Chocolate Bar Milkshake Oreo Cookie
£3.50
Chocolate Bar Milkshake Rolo
£3.50
Chocolate Bar Milkshake Snickers
£3.50
Chocolate Bar Milkshake Toffee Crisp
£3.50
Chocolate Bar Milkshake Twix
£3.50
Peri Peri Half Chicken 1 Regular Side
£6.30
Peri Peri Half Chicken 2 Regular Sides
£7.30
Peri Peri Half Chicken - Regular
£5.30
Peri Peri Whole Chicken - 2 Regular Sides
£9.30
Peri Peri Whole Chicken - Regular
£7.30
Peri Peri Chicken Wings (12) 1 Regular Side
£7.40
Peri Peri Chicken Wings (12) 2 Regular Sides
£9.40
Peri Peri Chicken Wings (12) - Regular
£6.40
Peri Peri Chicken Wings (5) - 1 Regular Side
£4.40
Peri Peri Chicken Wings (5) - Regular
£3.40
Peri Peri Chicken Wings (8) 1 Regular Side
£5.40
Peri Peri Chicken Wings (8) 2 Regular Sides
£6.40
Peri Peri Chicken Wings (8) - Regular
£4.40
Chicken Fajita Kebab on Naan
Seasoned chicken fillet cut into strips & grilled with onions & peppers
£6.30
Chicken Tikka Kebab on Naan
£5.80
Mixed Grilled Naan Kebab
Chicken tikka, seekh kebab, lamb tikka & grilled donner
£6.30
Mixed Naan Kebab
Grilled chicken tikka & grilled donner kebab
£5.90
Grilled Donner Kebab on Naan
£5.50
Scoop of Ice Cream Banana
Bubblegum*Strawberry*Vanilla*Chocolate*Mango*Mint Choc Chip*Cookies & Cream*Banana*Millions
Scoop of Ice Cream Bubblegum
Bubblegum*Strawberry*Vanilla*Chocolate*Mango*Mint Choc Chip*Cookies & Cream*Banana*Millions
Scoop of Ice Cream Chocolate
Bubblegum*Strawberry*Vanilla*Chocolate*Mango*Mint Choc Chip*Cookies & Cream*Banana*Millions
Scoop of Ice Cream Cookies & Cream
Bubblegum*Strawberry*Vanilla*Chocolate*Mango*Mint Choc Chip*Cookies & Cream*Banana*Millions
Scoop of Ice Cream Mango
Bubblegum*Strawberry*Vanilla*Chocolate*Mango*Mint Choc Chip*Cookies & Cream*Banana*Millions
Scoop of Ice Cream Millions
Bubblegum*Strawberry*Vanilla*Chocolate*Mango*Mint Choc Chip*Cookies & Cream*Banana*Millions
Scoop of Ice Cream Mint Choc Chip
Bubblegum*Strawberry*Vanilla*Chocolate*Mango*Mint Choc Chip*Cookies & Cream*Banana*Millions
Scoop of Ice Cream Strawberry
Bubblegum*Strawberry*Vanilla*Chocolate*Mango*Mint Choc Chip*Cookies & Cream*Banana*Millions
Scoop of Ice Cream Vanilla
Bubblegum*Strawberry*Vanilla*Chocolate*Mango*Mint Choc Chip*Cookies & Cream*Banana*Millions
1st Half Pizza BBQ Chicken
1st Half Pizza Chef"s Special
1st Half Pizza Chicken & Mushroom
1st Half Pizza Chicken & Pineapple
1st Half Pizza Chicken Feast
1st Half Pizza Country Feast
1st Half Pizza Death by Pepperoni
1st Half Pizza Garlic Margherita
1st Half Pizza Garlic Sausage
1st Half Pizza Ham & Mushroom
1st Half Pizza Ham & Pineapple
1st Half Pizza Hot & Spicy
1st Half Pizza Margherita
1st Half Pizza Meat Feast
1st Half Pizza Quattro Formaggi
1st Half Pizza Spicy Pollo
1st Half Pizza Tandoori Chicken
1st Half Pizza Tuna Delight
2nd Half Pizza BBQ Chicken
2nd Half Pizza Chef"s Special
2nd Half Pizza Chicken & Mushroom
2nd Half Pizza Chicken & Pineapple
2nd Half Pizza Chicken Feast
2nd Half Pizza Country Feast
2nd Half Pizza Death by Pepperoni
2nd Half Pizza Garlic Margherita
2nd Half Pizza Garlic Sausage
2nd Half Pizza Ham & Mushroom
2nd Half Pizza Ham & Pineapple
2nd Half Pizza Hot & Spicy
2nd Half Pizza Margherita
2nd Half Pizza Meat Feast
2nd Half Pizza Quattro Formaggi
2nd Half Pizza Spicy Pollo
2nd Half Pizza Tandoori Chicken
2nd Half Pizza Tuna Delight
Topping Jalapeno Chillies
Relish Burger Half Pounder
Topped with cheese & relish
£4.10
Relish Burger Quarter Pounder
Topped with cheese & relish
£3.70
Chicken Burger - Quarter Pounder
Prime chicken breast served in a toasted bun with fiery jalapenos & melted cheese
£4.20
Chicken Tikka Burger - Quarter Pounder
Topped with lettuce & mayo
£4.50
Cheeseburger Half Pounder
Topped with cheese
£4.20
Cheeseburger Quarter Pounder
Topped with cheese
£3.70
American Burger Half Pounder
Topped with fried onions
£4.20
American Burger Quarter Pounder
Topped with fried onions
£3.70
Coleslaw Burger Half Pounder
Topped with coleslaw
£4.20
Coleslaw Burger Quarter Pounder
Topped with coleslaw
£3.70
Garlic Burger Half Pounder
Topped with garlic mayonnaise
£4.20
Garlic Burger Quarter Pounder
Topped with garlic mayonnaise
£3.70
Plain Burger Half Pounder
100% Beef in a toasted bun
£4.10
Plain Burger Quarter Pounder
100% Beef in a toasted bun
£3.50
Hawaiian Burger Half Pounder
Topped with pineapple & cheese
£4.40
Hawaiian Burger Quarter Pounder
Topped with pineapple & cheese
£3.70
Oringo Burger
4oz beef burger topped with cheese slice,
onion rings, fresh salad & BBQ sauce
£5.20
Reggae Reggae Burger
4oz beef burger topped with cheese,
jalapenos, fresh salad & reggae reggae
sauce
£5.20
New York Burger
Chicken fillet breast, hash brown topped
with cheese, lettuce and mayo
£5.50
Nacho Libre Burger
Chicken fillet burger topped with crispy
tortilla chips, drizzled with Mexican sauce,
jalapenos & melted cheese
£5.50
Miami Burger
Chicken fillet, 2 mozzarella sticks, cheese
slice, lettuce & mayo
£5.50
Mushroom Melt
100% mozzarella cheese with mushrooms,
4oz beef burger, lettuce & onions
£5.20
The Gourmet Burger
6oz hand-made burger topped with fried
onions, cheese slice, fresh salad & burger
relish
£6.50
Double Peri Peri Chicken Fillet Wrap 1 Regular Side
£5.30
Double Peri Peri Chicken Fillet Wrap 2 Regular Sides
£6.30
Double Peri Peri Chicken Fillet Wrap - Regular
£4.30
Peri Peri Chicken Fillet Wrap 1 Regular Side
£4.30
Peri Peri Chicken Fillet Wrap 2 Regular Sides
£5.30
Peri Peri Chicken Fillet Wrap - Regular
£3.30
Traditional Wings (10)
With 2 regular sides
£9.00
Traditional Wings (15)
With 3 regular sides
£11.00
Traditional Wings (20)
With 4 regular sides
£16.00
Traditional Wings (5)
With 1 regular side
£4.50
Chocolate Fudge Cake 01 Scoop
The daddy of all desserts!
Rich, dark & very very chocolaty
£3.00
Chocolate Fudge Cake 02 Scoops
The daddy of all desserts!
Rich, dark & very very chocolaty
£4.00
Chocolate Fudge Cake - Regular
The daddy of all desserts!
Rich, dark & very very chocolaty
£2.50
Hot Cookie Dough Chocolate Chip Cookie Dough with Chocolate Sauce
£5.00
Hot Cookie Dough Strawberry Choc Chip Cookie Dough with Strawberry Sauce
£5.00
Mozzarella Sticks & Chips
£4.30
Peri Peri Chicken Fillet Burger 1 Regular Side
Served in a seeded bun with iceberg lettuce & mayonnaise
£4.30
Peri Peri Chicken Fillet Burger 2 Regular Sides
Served in a seeded bun with iceberg lettuce & mayonnaise
£5.30
Peri Peri Chicken Fillet Burger - Regular
Served in a seeded bun with iceberg lettuce & mayonnaise
£3.30
Double Peri Peri Chicken Fillet Burger 1 Regular Side
£5.30
Double Peri Peri Chicken Fillet Burger 2 Regular Sides
£6.30
Double Peri Peri Chicken Fillet Burger - Regular
£4.30
Double Peri Peri Chicken with Pitta 1 Regular Side
Served with mixed salad & mayonnaise
£5.30
Double Peri Peri Chicken with Pitta 2 Regular Sides
Served with mixed salad & mayonnaise
£6.30
Peri Peri Chicken Fillet with Pitta 1 Regular Side
Served with mixed salad & mayonnaise
£4.30
Peri Peri Chicken Fillet with Pitta 2 Regular Sides
Served with mixed salad & mayonnaise
£5.30
Mixed Donner Kebab in Pitta
Chicken tikka & donner
£5.70
Large Donner Kebab in Pitta
Grilled donner meat in pitta bread with fresh salad
£4.60
Grilled Seekh Kebab in Pitta
Grilled seekh kebab in pitta bread with fresh salad
£5.70
Grilled Chicken Tikka Kebab in Pitta
Grilled chicken tikka in pitta bread with fresh salad
£5.20
Kids Meal Chicken Breast Burger
With fresh salad & mayo
£3.50
Kids Meal Chicken Nuggets
£3.50
Kids Meal Chicken Wrap
With fresh salad & mayo
£3.50
Hot Shot Folded Calzone Pizza
Pepperoni, tandoori chicken, onions & jalapeno chillies
£7.20
Margherita Folded Calzone Pizza
£6.20
Donner Calzone Folded Pizza
Stuffed with mozzarella, tomatoes, donner slices & onions
£6.70
Meat Feast Folded Calzone Pizza
Pepperoni, turkey ham, salmi & chicken
£7.20
Garlic Margherita Folded Calzone Pizza
£6.70
Garlic Sausage Folded Calzone Pizza
Pepperoni & green peppers
£7.20
Ham & Mushroom Folded Calzone Pizza
Turkey ham & mushrooms
£7.20
Ham & Pineapple Folded Calzone Pizza
Turkey ham & pineapple
£7.20
Ham Folded Calzone Pizza
Turkey ham
£6.90
Hot & Spicy Folded Calzone Pizza
Pepperoni, tandoori chicken, onions & jalapeno chillies
£7.20
Pollo Folded Calzone Pizza
Chicken, tomatoes & sweetcorn
£7.20
Quattro Formaggi Folded Calzone Pizza
Combination of 4 cheese
£6.90
Salami Folded Calzone Pizza
£6.90
Pepperoni Folded Calzone Pizza
Pepperoni & green peppers
£7.20
Chef's Special Folded Calzone Pizza
A little bit of everything
£7.40
Calzone Folded Pizza
Stuffed with mushrooms, pepperoni, salami & chicken
£6.70
BBQ Chicken Folded Calzone Pizza
Peppers, BBQ chicken & onions
£7.60
Bolognese Folded Calzone Pizza
Bolognese sauce & onions
£7.20
Chicken Feast Folded Calzone Pizza
Tandoori chicken & spicy chicken
£7.20
Chicken & Mushroom Folded Calzone Pizza
£7.20
Chicken & Pineapple Folded Calzone Pizza
£7.20
Chilli Folded Calzone Pizza
Chilli con carne sauce & onion
£7.20
Country Feast Folded Calzone Pizza
Peppers, mushrooms, onions, fresh tomatoes & sweetcorn
£6.90
Funghi Folded Calzone Pizza
Mushrooms
£6.90
Death by Pepperoni Folded Calzone Pizza
Cheese, pepperoni, cheese, pepperoni & cheese
£8.00
Toscana Folded Calzone Pizza
Turkey ham, peppers, onions & mushrooms
£7.20
Tuna Delight Folded Calzone Pizza
Tuna, sweetcorn & onions
£7.20
Special Calzone Foled Pizza
Stuffed with mozzarella, tomatoes & a little bit of everything
£7.00
Spicy Pollo Folded Calzone Pizza
Spicy chicken, peppers, onions & jalapeno chillies
£7.20
Tandoori Chicken Folded Calzone Pizza
Tandoori chicken, onions & peppers
£7.20
Grilled Chicken Tikka & Cheesy Chips
£5.20
Grilled Chicken Tikka & Chips
£4.50
Meal Deal 1
Whole chicken, salad, chips, naan, tub of sauce & a can of Pepsi
£9.50
Meal Deal 2
Half Chicken, salad, chips, naan, tub of sauce & a can of Pepsi
£7.00
Meal Deal 3
Peri peri chicken burger, chips, tub of sauce & a can of Pepsi
£5.00
Meal Deal 4
5 Peri peri wings, salad, chips, naan, tub of sauce & a can of Pepsi
£6.00
Meal Deal 5
Half chicken, salad, rice, chips, tub of sauce & a can of Pepsi
£7.00
Meal Deal 6
Grilled donner, salad, chips, naan, tub of sauce & a can of Pepsi
£6.50
Jumbo Platter
2 Whole chicken, 5 wings, salad, 4 regular sides, tub of sauce & a bottle of Coke
£21.00
Combo Platter
Whole chicken, salad, 5 peri peri wings, 2 regular sides & a tub of sauce
£13.00
Chicken Tikka Wrap Regular
£3.70
Chicken Tikka Wrap With Chips & Drink
£5.00
Donner Grill Wrap Regular
£3.70
Donner Grill Wrap With Chips & Drink
£5.00
Grilled Burger Wrap Regular
£3.70
Grilled Burger Wrap With Chips & Drink
£5.00
Seekh Kebab Wrap With Chips & Drink
£5.00
Contact Us
Find Us
72 - 74 Main Street, Garforth, LS251AA